HOT ROCK CLIMBING SCHOOL Railay Krabi

Climbing

Deep water solo

Sailing

Weddings

HOT ROCK CLIMBING SCHOOL
Rock climbing is an exhilarating, challenging, healthy and fun activity unlike any other, and an alternative activity to make your holiday more valuable. When approached in the correct way, it is also nowhere near as dangerous as many people think. One of the great pleasures of the sport is that Rock Climbing cannot always be rigidly structured; every rock face and every climber is different and you learn something new every time you put your feet on the rock. Railay is one of the world's best places to climb; you have to come here and experience the sport with our experience and professionalism in order to make your holiday truly special,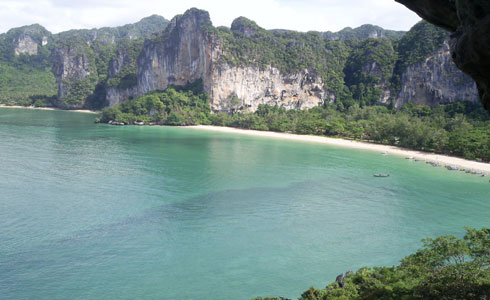 We guarantee climbing in small groups, up to 3 customers per instructor. This enables us to give you the very best instructions, the highest safety, more climbing time and a more personal. No experience is needed for any climbing, and for guests who come with experience we guarantee you get the grades you need. You choose what skills to learn and how fast to move on to new skills or new climbing techniques.
We provide first class climbing equipment imported from Singapore and Hong Kong, which is continually maintained. Gear and climbing clothes of highest quality are also available for rent or to buy at our outlet in Railay. Brands include Prana, Franklin and Rope Gune. All climbers or would be climbers are covered under Hot Rocks Insurance Policy.
In order to give you the best from your course, we provide instructors with the highest standard of experience, many years of sports rock climbing, trained in first aid and fluent in English language. The only thing between you and an unforgettable day is a reservation.

OUR COURSES
KIDS & FAMILY CLIMBING
Daily 9am-2pm, 4 hours
Our policy is to provide our costumer with a safe, comfortable and enjoyable holiday experience. This is extremely important when we climbing with children. Break away from your holiday routine and come and learn basic sports rock climbing with your kids and other families who have chosen Hot Rock Climbing School for its safe attitude towards this fun activity.
When we climb with young children we choose the shorter routes. We have equipment in children sizes to hold even the very young in a safe position during the climb. We climb Top rope, which is the safest method of climbing. Your instructor will lead up the rope on the rock face through the top anchor and bring it back to the ground.
½ DAY INTRODUCTION COURSE
Daily 9am-2pm, 4 hours
We teach you the basic climbing techniques needed to safely climb beginner routes, basic safety instruction, basic knots
, basic Top rope climbing, belaying, notions on equipment. Course includes drinking water.
FULL DAY INTRODUCTION COURSE
Daily 9am-5pm, 8 hours
We teach you the basic climbing techniques needed to safely climb beginner routes, basic safety instruction, basic knots
, basic Top rope climbing, belaying, notions on equipment. We then continue with some adventure climbing starting from Pranang beach and finishing at Railay's west side. The day includes trekking through Khao Luk Chosee cave, 45m above sea level, with some abseiling/rappelling of 15m. Course includes drinking water.
3 DAYS SPORT ROCK CLIMBING COURSE
Daily 9am-5pm, 8 hours a day


We teach you the basic climbing techniques needed to safely climb beginner routes, safety instruction, knots
, basic Top rope climbing, belaying, notions on equipment, abseiling/rappelling, lead climbing, multi-pitch climbing, rope technique.
The course is designed for those who have done some top ropes climbing before and now feel it is time to move on. Perhaps you know some parts of the sport rock climbing but not all, so we go over it, look what you know and add what's missing. The course mixes theory with practice. Course includes drinking water, lunches, certificate and t-shirt.
PRIVATE CLIMBING
Daily 9am-2pm, 4 hours or 9am-5pm, 8 hours
If you only have a short time here and want to be sure that you get the grades of the routes you like to climb and feel more comfortable to be one by one with your instructor and get his full attention. You have come here to climb a special climbing area, and the private guide will enhance this magic experience in Railay. We guarantee that your private climbing will be up to your expectations. Hot Rock climbing school is TAT registered an all our customer and instructors are insured.





HOT ROCK CLIMBING SCHOOL

Tar helt avstånd från alla droger
När klättringen är som bäst
Låt vår erfarenhet ge dig ett alternativ att göra din semester till ett Oförglömligt minne.
- Bergs klättring är adrenalin höjande, utmanande, nyttigt och roligt en sport mycket olikt andra aktiviteter.
Under ledning av erfarna instruktörer med korrekta instruktioner, är klättring också mycket mer ofarligt än vad många tror. Alla klippor är olika, så även alla klättrare, ett av sportens största nöje är att det inte alltid finns direkta riktlinjer. Du lär dig någonting nytt varje gång du sätter din fot på klippan.
Du befinner dig på ett av världens bästa klättrings ställen, våra guider har alla jobbat här på Railay i många år. Dom pratar alla bra engelska och är lugna och säkra klättrare. Våra gäster kommer från hela världen och med olika erfarenheter vilket har gett våra duktiga instruktörer en bred kännedom om deras gäster.

Klättrings skolan är under svensk och Thai ledning Vi klättrar I små grupper vilket ger oss möjligheten att ge er
Den absolut bästa instruktionen
Den allra högsta säkerheten
Den mesta möjliga aktiva klättrings tid
All vår klättring följer gästernas behov. Oavsett er erfarenhet från klättring, garanterar vi er en dag där ni alla har fått vad ni önskat.

I all vår klättring ingår Utrustning som vi regelbundet byter ut och rengör .Du är försäkring under din klättring genom oss. Vår klättrings skola är registrerad hos Tat-licens, laglig rätt att driva en klättrings skola.
Barn och familj klättring
Startar Dagligen kl.9 och 14 pågår i 4tim
Kom att pröva och lär dig klättra, tillsammans med andra barn eller tillsammans med din familj. Vi har Utrustning I mycket små barnstorlekar vilket är viktigt för att göra klättringen säker För att hålla de allra yngsta I ett stadigt grepp under deras klättring krävs utrustning i rätt storlek.
Vi klättrar, topp rep, vilket är det mest säkra sättet att klättra på. Vi använder oss endast av kortare klättrings leder när vi arbetar med de allra yngsta.
Våra instruktörer har alla stor erfarenhet att arbeta med barnklättring.
Topp reps klättring,
Instruktören leder upp repet på klippväggen, klickar in repet i bultar med hjälp av karbin hakar. Repet leds igenom topp ankaret. Som kan vara en stål ring. Därifrån ner till marken.
Halv Dag Introduktion
Startar Dagligen kl.9 och 14 pågår i 4 tim.
Du kommer att lära dig
Bas tekniken i Topp reps klättring vilket ger dig.
möjlighet att klättra nybörjar leder på ett säkert sätt.
Bas knopar och att säkrar ett Top rep.
trustningen och Säkerhets instruktioner.
Halddags klättring kan utökas till att bli en heldag om så önskas.
Hel Dags Klättring
Startar Dagligen kl.9 och pågår i 4+4 timmar.
Vi börjar med samma instruktioner som I vår halv dags Klättring

Plus
Eftermiddagen går vi längst Pranang stranden och
trekker igenom en grotta
Vi lär dig hur du firar dig ner 15m, från
en höjd av 45m ovan vattnet
Vår heldag av klättring kan utökas till att bli en 3 dagars Sports klättrings kurs.
3 Dagars Sports Klättring kurs
Startar Dagligen kl.9 och pågår 8 tim per dag.
Den här kursen är för dig som vet att du vill lära dig allt om Sports klättring.
Kanske har du klättrat en del innan eller deltagit i vår halv eller hel dag och nu redo att gå vidare. Kanske har du lärt dig av vänner men aldrig gått kurs och fått korrekta instruktioner. Den här kursen är även för dig som redan har erfarenhet av bitar inom Sports klättring. Men även dig som aldrig klättrat förr men vet att du vill ha all teknik inom Sports klättring. Om du har tidigare erfarenhet så ,går vi igenom och lägger största vikten och tiden på de områden du inte har erfarenhet av.
Vi blandar teori och praktik.
Säkerhets instruktioner och de viktigaste knoparna.
Utrustningen.
Säkring och Topp reps Klättring
Firning
Led Klättring och Fler leds Klättring
Private Klättring
Halvdag: Startar kl.9 och 14 pågår i 4 timmar.
Heldag: Startar kl.9 pågår 4+4timmar = 8 timmar.
Valet att klättra privat, kan variera. Det handlar inte alltid om att din klättrings leder
är av den högre graden, Och för att garantera att du får klättra dina leder väljer du en privat Instruktör. Kanske du har ont om tid, du vet exakt var du vill klättra och vilka leder. Du kanske känner dig mer bekväm att vara ensam och få full uppmärksamhet från din Instruktör.
Du själv leda alla leder och har ingen som kan säkra dig.
Du vill ha ledklättrare till de svårare lederna och leda de medelsvåra själv.
Vi garanterar en nöjd gäst oavsett din anledning av valet till Private Instruktör.